Articles Submission Open for Volume-10 Issue-2, February 2023 | Last Date of Article Submission is 30 January 2023
 Published By: Blue Eyes Intelligence Engineering and Sciences Publication (BEIESP)


 Scope: Engineering and Technology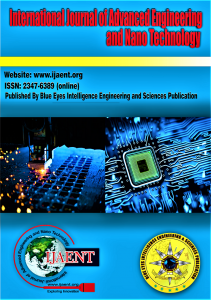 The International Journal of Advanced Engineering and Nano Technology (IJAENT) has ISSN: 2347-6389 (online), which is an online, open access🔗, peer reviewed🔗, periodical monthly international journal. This journal is published by Blue Eyes Intelligence Engineering and Sciences Publication (BEIESP)🔗 in the months of January, February, March, April, May, June, July, August, September, October, November and December.
The aim of the journal is to publish original, theoretical and practical advances in Engineering and Technology that covers Computer Science and Engineering, Information Technology, Electrical and Electronics Engineering, Electronics and Telecommunication, Mechanical Engineering, Civil Engineering and all interdisciplinary streams of Engineering and Technology. All submitted articles will be reviewed by the board of new editors🔗 of International Journal of Advanced Engineering and Nano Technology (IJAENT).
Important Dates- 

Last Date of Article Submission: 30 January 2023
Date of Notification: 15 February 2023 
Date of Publication: 28 February 2023 
Article (s) Receiving for: Volume-10 Issue-2, February 2023🔗
Author (s) can submit articles, round the year, electronically by using

Article Submission System🔗

.

The submitted article should be original, scientific, cutting edge, high quality, result oriented and within the

scope🔗

of the journal that will publish in the upcoming volume / issue if accepted. Author (s) will get notification along with the review report if article will be accepted by the reviewer(s).
The primary goal of the new editors🔗 is to maintain high quality of publications. There will be a commitment to expediting the time taken for the publication of the article(s). The articles that are sent for reviews will have names of the authors deleted with a view towards enhancing the objectivity and fairness of the review process.
Articles that are devoted to the purely mathematical aspects without a discussion of the physical implications of the results or the consideration of specific examples are discouraged. Articles concerning Engineering and Technology should not be limited merely to a description and recording of observations but should contain theoretical and quantitative discussion of the results.
Article (s) for the regular issue can be submitted, round the year, electronically by using Article Submission System🔗. After the final acceptance of the article, based upon the detailed review process and submission of required documents, the article will publish online immediately. However, the assignment of the article of specific Volume / Issue (see archive🔗) will be taken up by the new editors🔗 later; and the author will be intimated accordingly. For Theme Based Special Issues, time bound special calls for articles will be announced and the same will be applicable for that specific issue only.
The Guide for Authors and the Publication Ethics and Malpractice Statement (PEMS)🔗 support combined efforts by authors, editors, and reviewers to produce a responsible research publication. All authors must know and keep in mind the Editorial policy and the Publication Ethics and Malpractice Statement (PEMS)🔗. Guidelines for the submission of articles and manuscript preparation and format are to be found on the 'Guidelines for Authors'🔗 webpage.
Publishing an article in a peer-reviewed🔗 journal is an essential building block in developing a coherent and respected network of knowledge. This is a direct reflection of the quality of the work of the authors and the organizations that support them. The peer-reviewed🔗 articles support and embody the scientific method. It is therefore important to agree on the standards of ethical behavior expected of all parties involved in the act of publishing: authors, journal editors, peer reviewers, publishers and the society of journals owned or sponsored. The authors can read the ethics and policies which are available under the above committee(s) at: https://www.ijaent.org/ethics-policies/🔗
Basic Journal Details–
Website: www.ijaent.org
ISSN: 2347-6389 (Online)
DOI: https://doi.org/10.35940/ijaent🔗
Publishing Frequency: 12 Issue per year (Monthly: January, February, March, April, May, June, July, August, September, October, November and December)
Global Directory Partner: BEIESP🔗 
Published By: Blue Eyes Intelligence Engineering and Sciences Publication (BEIESP) more🔗 
First Volume/Issue Publishing Year: 2013
Journal Starting Year: 2013
Review Process: Double Blind Peer-Reviewed🔗
Publication Language: English
Publication Ethics: www.ijaent.org/ethics-policies/
Publisher License under: CC-BY-NC-ND🔗